Welcome to Dictionariapedia: The Dictionary wiki!!
Welcome to Dictionariapedia, and thank you for you contributions! We invite you to log in or create an account.
This is a wiki, which means anyone can edit, or add on to. We intend to give you information on words, or things with pictures.
In addition to that, if you need help feel free to contact me: Tatooine
We hope you continue to make contributions, now more enjoyable with achievement badges.
On talk pages or blogs please use correct language( no bad words) or we will be forced to block you.
Now as of aug. 3, 2010, we are in need of two administrators.
are you up to the job for that, if so drop a line on my talk page.
Happy editing on Dicionariapedia!!!!Tatooine 18:50, August 4, 2010 (UTC)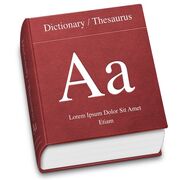 Read
Please read at your own discretion if any of this material is wrong or not up to date.
Dictionary.com
To let our users know some of the information we use is from dictionary.com and we do not own that material.
Visited Dictionariapedia
Click VISITED if you are on dicionariapedia!
References




Users

active or inactive
Tatooine
Active admin

Jurassicpark787

Gamegear360

Ferrari bricks

agent charge

NOBODY

semi-semi-active.

Dormant

semi-active

semi-active

dormant
Dictionariapedia news
Hello, I am Tatooine administrator on dictionariapedia, I am looking for 2 administrators and 1 patroller, are YOU up to the
job, if you think you are click here.
Tatooine
19:43, August 6, 2010 (UTC)